April 13, 2010 – 4:06 pm
We're been working on one of our favorite annual art events happening this week at San Diego State University, the Children's Center's "A is for Art" benefit auction. We're working on a write-up and realized we hadn't mentioned SDSU's new permanent art exhibition space near us in downtown San Diego that just opened last week, so we're putting this up first–their inaugural show is excellent!

San Diego State's new downtown San Diego art gallery opens April 9 in the historic Electra Building at the corner of Broadway and Kettner Boulevard. Intended to serve as an exhibition space for contemporary art and design by artists from around the world, it debuts with an exhibition of three widely known contemporary artists who are all SDSU alumni.


The SDSU Downtown Gallery's inaugural exhibition, Divergence: The Work of John Baldessari, Deborah Butterfield, and Andrea Zittel, will reflect the artists' different styles and generations within conceptual art….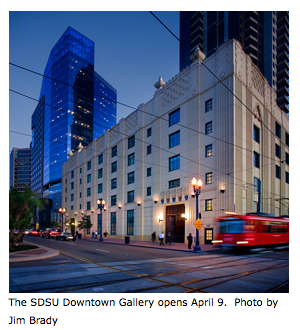 Read the full article on the SDSU website.