March 22, 2010 – 3:58 pm
The Frame Maker is proud to be the trusted regular picture framer for the Museum of Contemporary Art San Diego every year, but the bi-annual MCASD Art Auction gives us an exciting opportunity to take our support and enthusiasm for San Diego's premiere contemporary art institution a step further.

2010 marks the seventh time we've had the pleasure to sponsor this event by providing all of the museum quality picture framing required to present dozens of world class donated art works to the patrons, supporters and fans of MCASD. While it always feels good to donate thousands of dollars in essential services to a vital San Diego art institution (especially during indecisive economic times), we are even more pleased to support MCASD with our decades of experience and expertise in handling and presenting some of the world's finest art.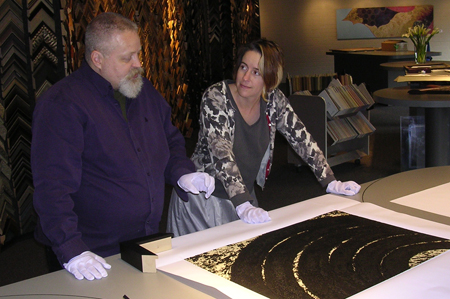 TFM designer Tom Houk working with MCASD curator Stephanie Hanor on a Richard Serra print donated to the 2008 MCASD Art Auction.

Ensuring the pristine condition of art work headed for auction is a vital component of supporting the MCASD mission. Trust and confidence in MCASD's best art handling practices ensures the success of the MCASD Art Auction, the proceeds of which fund both future MCASD art acquisitions, as well as their vital community outreach and education programs. Of course as artists and art enthusiasts ourselves, we are thrilled to work with the caliber of art donated to this event, and proud to be entrusted with its care and preservation.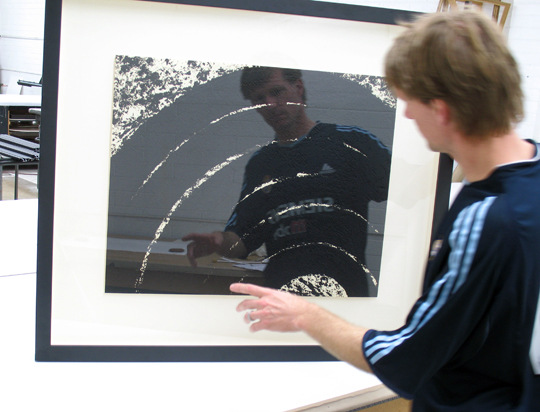 TFM staff checking finished framing of Richard Serra donation to the 2008 MCASD Art Auction

Starting this week and running through the auction itself on April 21, 2010, we will be featuring some of the art and artists donating to this year's event here on our MCASD blog; be sure to check back regularly for more information!