June 17, 2008 – 6:44 am
Okay so its not at MCASD but with the names in the line-up it easily could be.
I stopped in last Friday night with a replacement cleat for hanging one of the pieces in this show and was blown away by assembled imagery and roster of essential Pop Art masters represented in print, screenprint and beyond. Full disclosure: I love Roy Lichtenstein's work, featured on the postcard, so they had me from the beginning.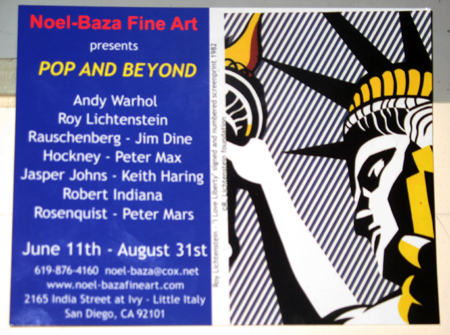 Noel-Baza postcard featuring Lichtenstein's "I Love Liberty", signed and numbered screenprint 1982
©R. Lichtenstein foundation
If you like this sort of thing, definitely check out this show, you won't be disappointed. You can also check out their website for more info at
noel-bazafineart.com
.