February 25, 2008 – 7:21 pm
The Frame Maker is once again proud to be supporting the Museum of Contemporary Art San Diego this spring with our contribution of museum quality framing services to MCASD's 2008 Benefit Art Auction.
This one of a kind collection of contemporary artwork is provided by collectors, galleries and the artists themselves and includes work by Robert Irwin, Victor Vasarely, Richard Serra, Gregory Crewdson, and many other noteworthy artists.
It is both our pleasure and privilege to handle these unique pieces for MCASD, and we are grateful for their confidence and trust in us throughout the year when their exhibitions require framing services.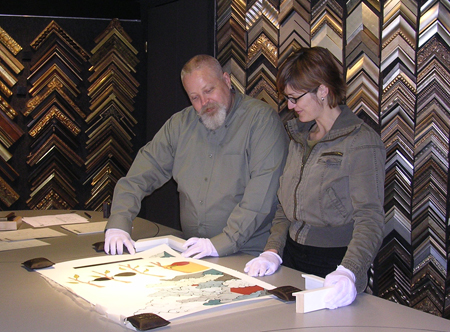 Staff designer Tom Houk working with MCASD assistant Curator Lucia Sanroman on the layout of
Mark Mulroney's
"A Common Division", part of the first round of artwork to be framed for the 2008 MCASD Art Benefit Auction.
See the MCASD online catalog entry for this piece.